RB/SXT-5HPnDr2
85,80 EUR
incl. 19 % VAT
(Net price: 72,10 EUR)
weight: 0,80 KG

Currently not available. Please send us an email.
Product.Nr.: RBSXT-5HPnDr2
product description
SXT 5HPnDr2:
low cost,

high transmit power 5GHz outdoor wireless device.

Up to 1.25W transmit power!

SXT 5HPnD can be used for point to point links or as a CPE for point to multipoint installations.
Complete with a ready to mount enclosure and built-in 16dBi antenna, the package contains everything you need to make a point to point link, or connect to an AP.

Box contains: one SXT 5, PoE injector, 24V power adapter, mounting bracket, metallic mounting loop.
Product specifications
Details

Product code

RBSXT5HPnDr2

CPU nominal frequency

600 MHz

CPU core count

1

Architecture

MIPS-BE

Size of RAM

64 MB

10/100 Ethernet ports

1

Wireless standards

802.11a/n

Wireless chip model

AR9344

Number of USB ports

1

PoE in

Yes

Supported input voltage

5 V - 30 V

Voltage Monitor

Yes

PCB temperature monitor

Yes

Dimensions

140x140x56mm, 265g

Operating System

RouterOS

Tested ambient temperature

-30 .. +70C

License level

3

Antenna gain DBI

16

CPU

AR9344

Max Power consumption

11W

USB Power Reset

Yes

USB slot type

USB type A

Number of chains

2

Storage type

NAND

Storage size

64 MB

SXT CPE installation guide:



Downloads
| | | | |
| --- | --- | --- | --- |
| | file | file size | |
| | SXT-5HPnDr2-Brochure.pdf | 0.43 MB | |
| | SXT-5HPnD-qg.pdf | 0.57 MB | |
| | RBSXT-AntennaPatterns.pdf | 0.12 MB | |
| | Auswahlhilfe-Punkt-zu-Punkt-Funklinks.pdf | 4.78 MB | |
| | Auswahlhilfe-Punkt-zu-Multipunkt-Funklinks.pdf | 3.84 MB | |
Recommended products
Router/Bridge configuration by MikroTik-Store
29,75 EUR
incl. 19 % VAT excl. shipping costs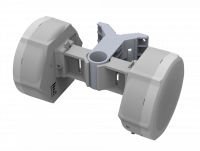 quickMOUNT
3,90 EUR
incl. 19 % VAT excl. shipping costs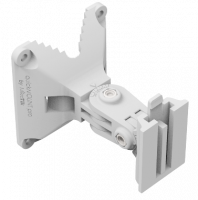 quickMOUNT PRO
7,78 EUR
incl. 19 % VAT excl. shipping costs