netPower 16P
232,28 EUR
incl. 16 % VAT
(Net price: 200,24 EUR)
weight: 2,40 KG
delivery time on request

Currently not available. Please send us an email.
Product.Nr.: CRS318-16P-2S+OUT
product description
netPower 16P - CRS318-16P-2S+OUT
Powering a bunch of access points or IP cameras and a few uplinks on a tower has never been easier. netPower 16P has 16 Gigabit Ethernet ports with PoE-out and two SFP+ ports for 10G fiber uplinks.
netPower 16P has a non-blocking throughput of 36 Gbps, switching capacity of 72 Gbps and forwarding rate of 53.6 Mpps.
Device itself does not have onboard voltage converter. You need 24V PSU to have 24V PoE out and/or 48V PSU to have 48V PoE out (IEEE 802.3 at/af).
Its sturdy and compact outdoor enclosure allows the switch to be mounted in all kinds of environments – from damp attics and shafts to towers, masts and poles with hose clamps.
Power supply is NOT included with the product. You are welcome to use your preferred power option, like battery pack etc. Compatible also with MikroTik power supplies 24HPOW, 48POW and 48V2A96W
Included Parts: two hose clamps. K-66 fastening set, DC to terminal block adapter x2
quick guide: https://help.mikrotik.com/docs/display/QG/Quick+Guide+G2
user manual: https://help.mikrotik.com/docs/display/UM/netPower+16P#
Routerboot firmware: https://i.mt.lv/cdn/rb_bootloaders/adm5120_2.18.fwf
block diagram: https://i.mt.lv/cdn/product_files/CRS318-16P-2Splus_200738.png
sfp compatibility list: https://wiki.mikrotik.com/wiki/MikroTik_SFP_module_compatibility_table
RouterOS manual: https://wiki.mikrotik.com/wiki/Manual:TOC
SwOS manual: https://wiki.mikrotik.com/wiki/SwOS
Declaration of conformity: https://i.mt.lv/cdn/product_files/ID149_CRS318-16P-2SplusOUT_DOC_200606.pdf
Brochure: https://i.mt.lv/cdn/product_files/netPower16P_200700.pdf
-
Specifications
Details
Product code
CRS318-16P-2S+OUT
Architecture
ARM 32bit
CPU
98DX226S
CPU core count
1
CPU nominal frequency
800 MHz
Dimensions
303 x 212 x 78 mm
License level
5
Operating System
RouterOS/SwitchOS
Size of RAM
256 MB
Storage size
16 MB
Storage type
FLASH
Tested ambient temperature
-40°C to 70°C
Powering
Details
Number of DC inputs
2 (DC jack)
DC jack input Voltage
18-30 V / 48-57 V
Max power consumption
316 W
Max power consumption without attachments
16 W
FAN count
Passive
PoE-out
Details
PoE-out ports
Ether1-Ether16
PoE out
802.3af/at
Max out per port output (input < 30 V)
1.1 A
Max out per port output (input > 30 V)
0.6 A
Max total out (A)
2.8A (18V-30V) & 1.4A (48V-57V) x2 A
Ethernet
Details
10/100/1000 Ethernet ports
16
Number of 1G Ethernet ports with PoE-out
16
Fiber
Other
Details
CPU temperature monitor
Yes
Voltage Monitor
Yes
Certification & Approvals
Details
Certification
CE/RED, EAC, ROHS
-
Switching results
CRS318-16P-2S+OUT
Mode
Configuration
1518 byte
512 byte
64 byte
kpps
Mbps
kpps
Mbps
kpps
Mbps
Switching
Non blocking Layer 2 throughput
2,925.9
35,531.9
8,458.6
34,646.6
53,571.4
27,428.6
Switching
Non blocking Layer 2 capacity
2,925.9
71,063.7
8,458.6
69,293.2
53,571.4
54,857.1
Switching
Non blocking Layer 1 throughput
2,925.9
36,000.0
8,458.6
36,000.0
53,571.4
36,000.0
Switching
Non blocking Layer 1 capacity
2,925.9
72,000.0
8,458.6
72,000.0
53,571.4
72,000.0
Ethernet test results
CRS318-16P-2S+OUT
98DX226 all port test
Mode
Configuration
1518 byte
512 byte
64 byte
kpps
Mbps
kpps
Mbps
kpps
Mbps
Bridging
none (fast path)
104,1
1264.2
119,1
487.8
141,1
72.2
Bridging
25 bridge filter rules
59,7
725.0
59,7
244.5
70,4
36.0
Routing
none (fast path)
104,1
1264.2
129,7
531.3
143,5
73.5
Routing
25 simple queues
56,7
688.6
57,9
237.2
65,2
33.4
Routing
25 ip filter rules
44,1
535.6
45,6
186.8
48,4
24.8
All tests are done with Xena Networks specialized test equipment (XenaBay),and done according to RFC2544 (Xena2544)
Max throughput is determined with 30+ second attempts with 0,1% packet loss tolerance in 64, 512, 1518 byte packet sizes
Test results show device maximum performance, and are reached using mentioned hardware and software configuration, different configurations most likely will result in lower results
Recommended products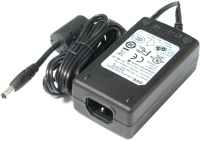 24V High-Power Power Supply + Power Plug
17,16 EUR
incl. 16 % VAT excl. shipping costs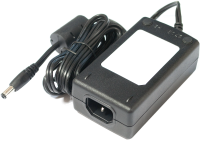 48V Power Supply + Power Plug
15,10 EUR
incl. 16 % VAT excl. shipping costs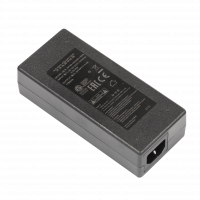 Mikrotik 48V 2A 96W Power supply with plug
36,95 EUR
incl. 16 % VAT excl. shipping costs