Mikrotik RBLHGG-5acD-XL - LHG XL 5 ac
78,53 EUR
incl. 19 % VAT
(Net price: 65,99 EUR)
weight: 3,50 KG

Available, at least 4 on stock
Product.Nr.: RBLHGG-5acD-XL
product description
Beschreibung/Description: Mikrotik RBLHGG-5acD-XL - LHG XL 5 ac
Deutsch:
Mikrotik LHG XL 5 ac ist ein auf lange Distanzen in 5GHz (802.11ac) ausgelegtes Wireless Gerät, mit einer integrierte, dual polarisierten 27 Gitterantenne zu einem sehr guten Preis. Sie eignet sich perfekt für Punkt zu Punkt Links oder in der Nutzung als CPE speziell auf lange Distanzen, zudem unterstützt Sie das Mikrotik eigene Nv2 TDMA Protokoll.
Das Gerät verfügt über einen 10/100/1000 Mbit/s Ethernet Port, um die Möglichkeiten des 802.11ac Protokolls auszuschöpfen.
- LHG XL 5 ac (International) unterstützt die Frequenzen 5150MHz-5875MHz, abhängig vom jeweiligen Länderrecht.
English:
The LHG XL 5 ac is Long Range 5GHz 802.11ac wireless device with an integrated dual polarization 27 dBi grid antenna at a revolutionary price. It is perfect for point to point links or for use as a CPE at longer distances and supports Nv2 TDMA protocol.
The device includes one 10/100/1000 Mbit Ethernet port to fully utilize speeds that 802.11ac protocol provides.
- LHG XL 5 ac-US (USA) is factory locked for 5170-5250MHz and 5725-5835MHz frequencies. This lock can not be removed.
- LHG XL 5 ac (International) supports 5150MHz-5875MHz range (Specific frequency range can be limited by country regulations).
---
Lieferumfang/Content of delivery:
1x RBLHGG-5acD-XL

1x 24V 0.38A power adapter
2x metal rings
1x PoE-Gigabit-Injector
1x K-LHG-Kit
---
Specifications
Details
Product code
RBLHGG-5acD-XL
Architecture
ARM 32bit
CPU
IPQ-4018
CPU core count
4
CPU nominal frequency
716 MHz
Dimensions
Ø 550 x 245 mm;
License level
3
Operating System
RouterOS
Size of RAM
256 MB
Storage size
16 MB
Storage type
FLASH
Tested ambient temperature
-40°C .. +70°C
Powering
Details
Max Power consumption
8W
PoE in
Passive PoE
PoE in input Voltage
10-30 V
Number of DC inputs
1 (PoE-IN)
Wireless
Details
Wireless 5 GHz number of chains
2
Wireless 5 GHz standards
802.11ac
Antenna gain dBi for 5 GHz
27
Wireless 5 GHz chip model
IPQ-4018
Ethernet
Details
10/100/1000 Ethernet ports
1
Wireless specifications
| 5 GHz | Transmit (dBm) | Receive Sensitivity |
| --- | --- | --- |
| 6MBit/s | 25 | -96 |
| 54MBit/s | 21 | -80 |
| MCS0 | 25 | -96 |
| MCS7 | 20 | -75 |
| MCS9 | 18 | -70 |
---
Mikrotik-Store.eu Hinweise:

aus unserem Blog/from our Blog:
-
Do you have any further questions or are you interested in this product, but do not know exactly whether it is suitable for your purposes? Please write us an e-mail with your exact request: sales at mikrotik - store dot eu - With the subject: "Question about RBLHGG-5acD-XL"
-
Downloads
| | | | |
| --- | --- | --- | --- |
| | file | file size | |
| | LHG5XLac-Brochure.pdf | 3.80 MB | |
| | LHG5XLac-QuickGuide.pdf | 0.15 MB | |
| | LHG5XLac-Selection-Guide-for-PtMP-Links.pdf | 3.84 MB | |
| | LHG5XLac-Selection-Guide-for-PtP-Links.pdf | 4.78 MB | |
Recommended products
Router/Bridge configuration by MikroTik-Store
29,75 EUR
incl. 19 % VAT excl. shipping costs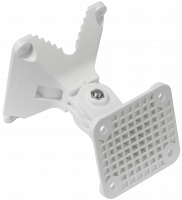 quickMOUNT pro LHG
7,78 EUR
incl. 19 % VAT excl. shipping costs
RouterOS Update and Firmware Upgrade by MikroTik-Store
17,85 EUR
incl. 19 % VAT excl. shipping costs